"

Our vintage items are unique and important in and of themselves...
but also because of the stories they tell.
---
About Us
Unique. Antique. Boutique. The secret's out on Sullivan County Catskill's premiere antiquing destination in Bethel, New York! A frequent favorite of New York stylists and celebrities, our award-winning shop is painstakingly curated with uber-vintage luxuries and one-of-a-kind antique treasures.
Located in an 1890's farmhouse on world famous Woodstock Way, we're just minutes from the historic site of the 1969 Woodstock Music & Art Fair, An Aquarian Exposition: 3 Days of Peace & Music (how groovy is that?!)
At in2retro we showcase a distinctive array of pieces
carefully chosen with an eye towards beauty, rarity, excellent condition and dramatic impact - for Gals, Guys, and the Home.
As seasonal shopkeepers, Fashionista Amy & her Hippy-Hubby Joe, spend the winter months traveling the US and Europe
seeking special items you won't find in most antique shops. With a reputation built on unusual and high quality pieces, the inventory reflects decades of passionate collecting of Costume Jewelry, Designer Handbags, Woodstock Memorabilia, Fashion Accessories, MANtiques,
Luxury Goods, Furniture, Lighting and exquisite Home Décor.

Welcome. Peace and Love. ☮️ ❤️
Whatever you're in 2. We're in2retro.
_____________________________________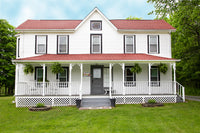 1163 NY-17B
Mongaup Valley, NY 12762
We are located on Woodstock Way just minutes from the historic site of the 1969 Woodstock Music Concert and Festival - 3 Days of Peace, Love & Music in the heart of Bethel, NY. ❤️
We are here
We love hearing from our customers, reach out!
VIRTUAL PERSONAL SHOPPING
Book An Appointment
to Shop with us on
FaceTime, ZOOM
or Facebook Messenger ​
EMAIL & BOOK
CALL US WITH QUESTIONS
We specialize in the unique.
Let us help you find the rare
and unusual. Let's chat. 
845-583-3126
CALL US